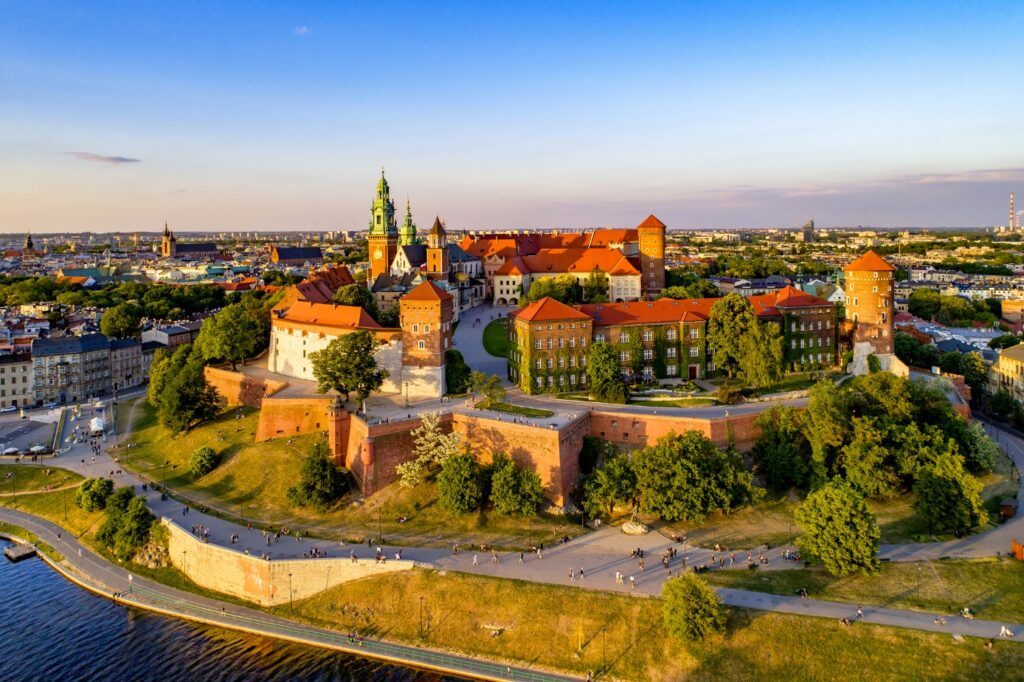 Krakow is one of the most beautiful cities in Europe, which arouses many emotions. The heart of the city is the Market Square, which is the number one landmark of Krakow and a UNESCO World Heritage Site. In the middle of the square stand the medieval Cloth Hall, which once served as a trade hall and is no different today. Opposite them is St. Mary's Church, inside which you will find the magnificent altarpiece by Veit Stoss, which is now over 1000 years old. The Old Town in Cracow is a huge treasury of monuments and works of art, which we can admire until now. 
Apart from it, one of the most interesting places is Kazimierz – a place that combines two cultures – Christian and Jewish. A visit to Kazimierz is a must for anyone visiting Krakow. After visiting Kazimierz, you should visit the Wawel Royal Castle – the seat of Polish rulers, which is now one of the most important museums with numerous exhibitions. Next to the castle is the cathedral, which is the burial place of many kings of Poland. It is also worth visiting the Dragon's Den under the castle, where a dragon is said to have once lived. There is also something for hiking enthusiasts. Krakow is a city of mounds, which are dedicated to various figures from Polish history. They are located in different parts of the city and come from different periods of time. After climbing each one you can admire a beautiful panorama of Krakow.
Krakow is not only museums, hiking trails, art and history. It is a wonderful place where everyone will find something for themselves. It is also created for lovers of entertainment, restaurants or cafes in the beautiful outdoors. Many Polish artists succumbed to the charm of Krakow, which we witness in numerous works.
This city with a thousand years of tradition is full of charming places. It is full of cultural life, which was appreciated when in 2000. Cracow was proclaimed European Capital of Culture. Annually takes place here more than 100 festivals and cultural events. Undoubtedly, the city can enchant with its unique atmosphere, which is why it is appreciated by tourists from all over the world.
10 best things to do in Krakow:
Main Square
St. Mary's Basilica
Cloth Hall (Sukiennice)
Wawel Hill
Juliusz Słowacki Theatre
Kazimierz
Polish Aviation Museum
Krakus Mound
Planty Park
Bars